How Can Journalists Make the Best Use of Social Media?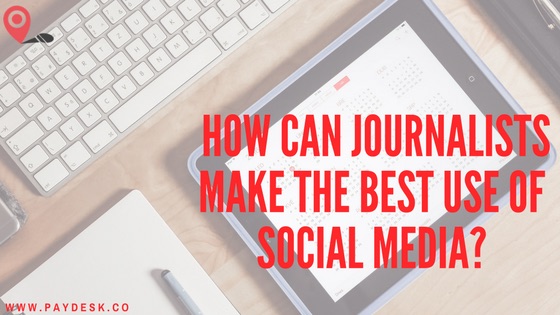 Promotion
How does a journalist deal with that? If they are employed by a media
organisation, should they even need to deal with it? Well that leads
back to the often controversial argument that a journalist is their own
personal brand and should market themselves as such. For the
purposes of this article, let's roll with that.
A journalist needs to both build their own personal brand (after all, this
is how they are going to win new work) and publicise their existing
stories. Many of their stories will have a short shelf life, others are
more evergreen and will be able to be reposted on social media again
and again (at least on Twitter, where the half life of a tweet is around
20 minutes). But all need promoting and there are benefits to you
promoting them as well as the publication.
What are the benefits? Firstly, the publication is unlikely to tag you on
Facebook or Instagram or Twitter. Let's face it, it's a rarity. So it's good
to get your name and social media handle associated with both the
story and the publication. Secondly, it increases the social reach of your
article. OK, you aren't likely to have an equal reach to the publication,
but every little helps. And the more you engage on social media, the
higher your social reach will be for your NEXT articles. If you want to
build your personal brand, it's not enough to post, you must engage,
engage, engage.

Research
As well as promotion, it's likely you are already using social media to
research your stories, to get ideas, perhaps even to conduct polls and
find interviewees using relevant hashtags. While the #journorequest
hashtag may have been hijacked somewhat lately by bloggers and
spammers, it still remains an invaluable method of reaching people
who may be useful.

Networking
Naturally as well as finding great things to write about and promoting
your personal brand, social media is also of huge value to a journalist
for networking purposes. Building relationships with people is the social
in social media.

Twitter
Twitter remains the home of breaking news, and the home of a great
many journalists too. Its main advantages are its immediate nature and
the ability to communicate with anyone in a way that's just not possible
on the other platforms. While many have been predicting Twitter's
death for years, revenue figures in the last quarter were up. While it
may not continue in its present format (280 characters anyone?), there
is little doubt it will continue.

LinkedIn
LinkedIn is a platform which is changing rapidly, and seeing a great deal
more engagement than earlier this year. It is particularly useful also if
you need to search by job title. Posts without links now appear to have
greater reach after all the algorithm changes, and the tone in general
has become more chatty, but still professional. If this is a platform you
haven't been too involved with it might be time to up your game here.

Facebook
Facebook passed 2 billion monthly users in June this year. That's a
mind-blowing number of people using the platform regularly. Every day
800 million people like a post. (The Verge, June 27 th 2017) Facebook
Groups are also growing and are used by a billion people a month.
Groups can be a great way to build following and engagement, and
different groups may be the right place to share different articles.
Your Facebook feed, if you follow a good variety of pages and personal
profiles, can give you a glimpse into the lives of ordinary people. This is
your audience for your storytelling, so it makes sense to monitor what's
important to them. It's all about the eyeballs on your work, after all.

Instagram
Instagram, Facebook's little sister, has also enjoyed a huge growth year.
It has grown by 100 million active monthly users every 4 months in
2017, and now has 800 million monthly users and 500 million daily
users. So if you have good quality, eye-catching visuals, use Instagram.
Don't forget the importance of hashtags on this platform either, as it is
how you're going to be found by those who haven't heard of you yet.
Spend some time doing hashtag research for your niche and use the
best ones, up to 30 on a post. Rather than putting them on the post
itself, pop them into the first comment as soon as you have posted.
And just like the other platforms, engagement is really important on
Instagram.

For all platforms, visual content is more than 40 times more likely to be
shared – make sure you have a good image to go with your great story.
And Lives get the greatest push from the algorithms, so use Facebook
Live, Periscope or Instagram Stories to push your content further.
Just try not to fall into the rabbit hole of social media.