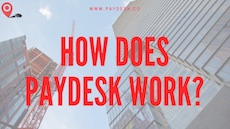 PayDesk is essentially an online marketplace where broadcasters and editors can be put in touch with reputable freelance journalists in the exact niche or geographical area they need, at the time they need them.

For broadcasters
On the broadcaster or editor's side, PayDesk works perfectly for the hire of a single vetted freelancer, or a team of many of our assets. It's a fully featured platform that takes you through the process from beginning to end, from finding the ideal freelancer, to managing your assignments and your payments under one umbrella. If a big story breaks you need assets on the ground immediately and through Paydesk you have access to them.

For freelancers
On the freelancer's side, PayDesk is the stress-free answer because we guarantee speedy payment. You will never need to chase the client, and you will be paid at the start of the month for all jobs you completed for any PayDesk client during the prior month.

We encourage our freelance members to completely flesh out their profiles with us and to regularly add an outline of stories they would like to cover. Not only do potential clients look at these, but we may well use them on Twitter to illustrate to broadcasters the talent we have waiting to be accessed.

Testimonials
Our members come from literally all over the globe, and using Paydesk as a one-stop-shop works really well for them no matter where they are based. Here is some of the feedback we get:

Jonathan Sacerdoti (@jonsac on Twitter) is a British journalist, commentator and broadcaster based in London. He works regularly on BBC, Sky, Al Jazeera and is UK and EU Correspondent for i24 News.

"I'm a freelance broadcast journalist working in London. I have regular clients who use me for most of their UK and Europe coverage, and Paydesk is a really helpful tool for adding extra work to my schedule. I am often covering big stories as they break, and media outlets around the world go to Paydesk to find local correspondents to report immediately on those same breaking stories, sometimes while they send their regular correspondents to the scene. In the last week I have had enquiries from Indian and Canadian broadcasters who wanted me to cover breaking stories.

I was at Westminster covering the UK's general election when NDTV in Delhi asked me to do a live Skype report for them from outside the Houses of Parliament. I was already based there for another client and therefore was able to accept, set up the call and do the live within very little time. Using a mobile internet dongle, my laptop and a proper microphone setup, I gave them a professional and clear live report with the Palace of Westminster in shot.

The second job that came to me was on the morning of the tower block fire in London. Again, I had been up since before dawn covering the story live for a regular client, and received a request through Paydesk to cover it for a Canadian broadcaster. The system was simple and allowed me to accept the job quickly. They arranged for a live Skype report, and even though I was actually setting out for the airport to fly overseas, I was able to accept, knowing that I could deliver a quality report using my iPhone and Skype.

In the past, I have had bookings for lives on other channels, requiring me to speak with a London view behind me. Because I have built my own mini studio with a Thames skyline backdrop and proper sound equipment, I am able to provide these easily, too, and Paydesk makes it possible for broadcasters to find me, contact me, book me and receive the content all in very little time. 

Thanks to the way that Paydesk works, I also know I will get paid without any of the usual worries of working for a new client and having to liaise with a new accounts department in a foreign country. The money goes into Paydesk's escrow account as soon as the job is advertised, which means that if I accept it through the system and then do the live, I know the money will be released to me without any problems."

Amina Ashraf (@Amina_Ashraf on Twitter) is a journalist based in Qasr an Nile, Egypt. She has worked with the Financial Times, The Guardian, The Sydney Morning Herald and Le Figaro as well as live Skype and phone interviews with CBC, Fox and France 24.

'Paydesk is fast, efficient and reliable. It's great because as a freelancer you just sign up and they send any relevant jobs they have your way. Also I don't want to have to worry about every hit I get, because Paydesk helps me sort through everything from alerting me to available gigs via SMS all the way to arranging my payment when I complete the job. Their staff are extremely friendly and professional and I have only had good experiences with them. I would highly recommend PayDesk to anyone in this field.'


If you're a journalist, photojournalist or photographer, take a look at our website. Here are the different services we offer: https://paydesk.co/pricing

If you think you would be a good match to our services, sign up and stay tuned!