How to Become a Freelance Journalist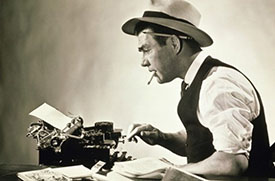 WHAT IS A FREELANCE JOURNALIST?
As in any professions, current journalism is characterised by less "jobs", but possibly more opportunities for the right person in the right place. This job title is known as a freelance journalist. If you want to be that person, operating locally or internationally, there are many things you can do to advance your prospects. They all take some investment in labour and time, but if you play your cards right, it may well be worth your while.

HOW TO GET STARTED IN FREELANCE JOURNALISM
Your odds of getting your first chance in freelance journalism are higher if you'll be able to show some work experience. And yes, blogging counts. If you can show that you have been writing on the topic or area that you are applying to cover, your chances will increase immensely. Of course, being able to show that you have already done a news project for either published or broadcast media would give you further advantage.

HOW TO START A CAREER IN FREELANCE JOURNALISM
The current journalist is expected to be a lean mean multi-skilled machine. Newspapers and broadcasters are cutting on all the assisting-services: editors, photographers, camera crews and so on. You are expected to deliver a clean copy with checked and cross-checked information, that is perfect spelling and typo-free; you could be asked to provide a reasonable quality photo, so make sure you optimise your use of your smartphone or have a pocket camera that takes hi-res pics. Naturally, more advanced shooting equipment would be an advantage.
Make sure you can use on-camera skype for reporting, and use apps like Skype or facetime.
Being able to shoot some footage is a great advantage. If you can edit an audio or video news package – even better.
Get a selfie stick to be able to film you own piece to camera on your smartphone or have a tripod for your camera.
Recording a scripted piece for radio or as narration to go with footage are also useful skills.
Make sure you know how to use file storage websites to send your heavier files over to the client.

GET THE LINGO
In order to make sure you know how to be a freelance journalist, make sure you know what is the difference between an opp-ed article, a feature story, a news item and a log piece. Make sure you know the difference between a "from our own correspondent" personal-narrative audio piece and live news reporting. Always try to know as much as you can about the type of journalism your client runs and what formats they use. If you know what they have – you'd know what to offer them.

GET ON SOCIAL MEDIA
Get on twitter, Facebook, LinkedIn Google+ ad on specific networks for journalists (google is your friend). Be visible. Make sure your qualifications and experience are in your "about" section on FB and in your little twitter description, including links to your site/blog. If your "normal" Facebook page is full of personal exchanges and holiday pics you might want to open a separate account for your journalism. Social media accounts make you reachable but are also a platform to promote your journalism and display your work.

LET THEM KNOW WHERE YOU ARE
Whether you have exported yourself abroad to try and work freelance from there, or you are hoping to report from home – make the people you want to work for know where you are and what are you covering, long term and short term. Email the news editors, register with the reporting agencies, update your location on social media, make it be known what you are looking into and post anything you've already published on it.

COVER YOUR BACKSIDE
When you are an independent freelancer out on a mission – you are on your own. Nobody has to bail you out if you get into trouble in a faraway land, get injured, or are sued by the subject of one of your stories. Be careful on all those counts, make sure you have the best insurance you can get for your equipment, for your health and for liability issues. Make sure your journalism is professional, your sources are crossed and your facts are double checked. Make sure you have a good lawyer's number in your pocket, and that you know where to go for medical emergencies.