Is traditional journalism dead?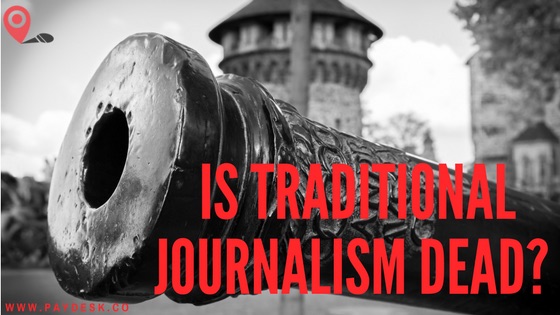 Many have sounded the death knell of traditional journalism over the past few years. They have good reason: declining revenues, falling circulation, and the rise of free access to news on the internet have all put pressure on newspaper publishers.

Newspapers are closing all over the place. One UK regional title which had been published for 160 years, the Oldham Chronicle, printed its last edition this month. The English-language Buenos Aires Herald closed in August. According the Press Gazette, 198 papers in the UK have closed since 2005. The Independent ceased publication of its print edition and now publishes only online. Meanwhile new online titles such as Buzzfeed and the Huffington Post have become household names. 

But while print publications are facing a difficult time, the internet has seen the demand for news and information skyrocket. We consume new material at an incredible rate. On Twitter, 448,800 tweets are sent every minute. At the same time there are 3.8 million Google searches. And every 60 seconds, 1440 articles are published on Wordpress. People are creating and sharing more content every minute of every day. 

Journalism is still happening. People are still researching, writing, investigating. Bloggers are able to produce useful, interesting copy about their specialist subject from finance to beauty. They have thousands of followers and fans who tune in to their podcasts or follow them on instagram as well as reading their blog posts. Social networks such as Facebook, Instagram and LinkedIn encourage native material. They do not want you to click elsewhere. You are encouraged to stay put. This means companies wanting to use social media as a marketing tool need to create quality content which fits each platform's personality. This includes news media who use social to get their stories out to the public.

The journalism market has become more fragmented. Does that mean traditional journalism is dead? A well written, clear, factually correct article explaining how new legislation will impact people is traditional journalism whether it appears on Medium, Buzzfeed, a personal blog or LinkedIn. 

But there is a problem: in an increasingly noisy world, with constant content generation, you need to be able to filter. You need to know which articles are true and helpful - and which are not. Which information should you trust? How can you spot the fake news? Where do you go for analysis and opinion?

Traditional journalism is not dead. It may be a while since you picked up a newspaper, watched a live TV broadcast or had to tune a radio. We access media differently now, on demand, on our phones. But that does not mean we do not need journalists. In fact in these days of fake news we need traditional journalism more than ever. We need sources we can trust, people who can give us relevant information, reporters who are prepared to stand up for others and pursue the truth. 

Journalists are information analysts. They have the ability to analyze complex documents, make sense of them, pick out the important points and make the information accessible to others. News sense enables journalists to spot what the next trend is going to be. Do you want to know if a product will catch people's attention? Talk to a journalist about it and they will be able to spot if there's a story which will grab your audience. 

Would you like an employee who is comfortable talking to people at all levels of your business? Someone who can get to the heart of the matter and give you the top level information you need to make a business decision? You need a journalist. Someone who is cool under pressure. A person who can get through a complex report and precis it. One who will tell things to you straight. 

Journalism these days is about packaging information. You need to create your lead for the paper or article for online. Then it has to be repackaged for social. Your story needs to be told in 140 characters on Twitter. Then you need to be able to turn it into a video for use on Facebook or YouTube. LinkedIn has its own publishing platform and has just introduced native video too. How will you tell that story on different platforms? How will you make it relevant to those audiences? Far from killing off journalism, the internet and social media have presented new opportunities for it. We have to be more creative. 

Traditional journalism is not dead. You need to decide how you are going to make use of it. 


Paydesk provides journalists, videographers and photographers for all media requirements. We offer newsgathering, research, video creation, public relations and risk analysis. If you are looking for information, we have someone who can give it to you.