Personal Safety for Journalists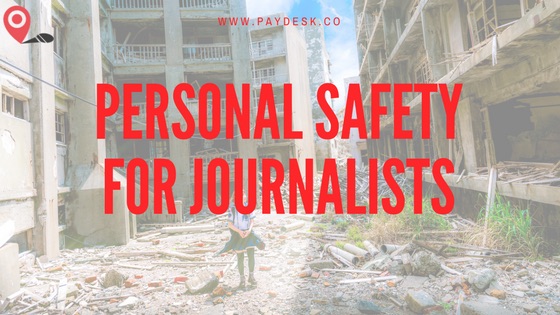 Journalists in danger: how to protect your safety when you're reporting the news

Journalists frequently find themselves running towards danger. We all want to get the story. We want to be first on the scene. Your news editor wants pictures, copy for the website and live social media posts. The pressure is on and the last thing you may be considering is your safety.   In 2016, 115 journalists were killed at work. So far this year 37 journalists and media staff have died and three citizen journalists have been killed according to the International News Safety Institute.  Recently, UNESCO and the Office of the United Nations High Commissioner for Human Rights (OHCHR) held a consultation on strengthening the UN Plan of Action on the Safety of Journalists and the Issue of Impunity.  UNESCO Director-General Irina Bokova said: "Too many journalists are imprisoned for the wrong reasons. Too many journalists are forced to flee their countries. Women journalists face particular forms of harassment. Murder remains the most tragic form of censorship. Over the last decade, one journalist was killed every four days and in more than nine out of ten cases, perpetrators went unpunished."  All situations potentially have risks: a complainant in your office; a demonstration which turns ugly; returning from an assignment late at night. Last year 20 journalists were killed when a plane carrying the Brazilian football team Chapecoense crashed and nine were on board a Russian military plane which came down on its way to Syria.  It's important that you are aware of the potential risks facing you and have a plan for how to mitigate them.  

What are the risks?

In a conflict situation you face a range of risks such as gunfire, bombing, gas attacks, roadside bomb or a terrorist attack. But you may face less conspicuous dangers on assignment like the risk of kidnap or a road traffic accident as well as potential health concerns including the effects of drinking unclean water. Be aware of environmental risks as well. You could be at risk of extremes of weather such as a heatwave or in danger from flooding or a forest fire.   Be aware of the political situation. Are the authorities hostile towards journalists? Are there regulations which could be used to try to stop you reporting on a situation? Are there gangs operating in the area? Could you be at risk of imprisonment, torture or death at the hands of a regime?  As well as your own safety you also need to consider those of people you are working with. There will be your colleagues but also local guides and translators. Then there are your sources. Is your activity going to put them in danger?  Talk through the dangers with your team on the ground as well as your commissioning editor. Have you researched the situation thoroughly so you know what you're going into? Is the story worth the risk?   Draw up a risk assessment and make sure everyone authorising your assignment has a copy. No matter how obvious you think the risk is, make sure it is recorded. Who is affected and how? Write down what steps have been taken to mitigate the risks and whether there is anything else which could be done. Whose responsibility is it to control the risks? Ensure any outstanding actions are completed.  

Who is your support network?

Journalists often work alone. You may be talking to people in the street, knocking on doors and find yourself in an unsafe place. Reporting from court can lead to conflict. You may be on assignment away from home in a location where you are not aware of potential dangers. Reporters, photographers and video journalists can easily find themselves in a vulnerable position. You need to be aware of the risk of becoming a victim of crime such as violence, theft or sexual assault.  Always make sure someone at work and someone at home, or a friend, knows what your movements are each day. Arrange to send them a message to check in at a particular time so they know you have completed your day's work. Make sure you have a back-up charger for your phone and ideally a spare phone in case of emergencies.  

Where are you staying?

As well as thinking about your safety while out on the job, you also need to consider your surroundings off duty. Have you checked out the area where you are staying? What's its reputation? Do you need to cross borders to get there? Do you have a host who can guide you? Make sure you know where the nearest hospital is as well as the pharmacy and where to buy fuel for your vehicle. Don't forget your essentials like where to buy food and water.  Always make sure you know how to get out of the building you are staying in. You may need an escape route.   

What equipment do you need?

As well as the equipment you need to do your job, you should also plan for what to do if things go wrong. Do you have a stable electricity supply? How will you operate if you lose power? Remember the need to stay in touch with your support network. Think about what you will do if you don't have mobile phone coverage, for instance.  You should always carry a first aid kit. You might be in a car crash or find yourself at the scene of an accident where someone else needs one. The International News Safety Institute recommends you carry a personal kit, one for your team which stays in your vehicle and a pack with any day to day medication.  For more information about how to stay safe while reporting, go to the Journalist Security Guide (https://cpj.org/reports/2012/04/journalist-security-guide.php) on the Committee to Protect Journalists website.  With the risk journalists may face, it's vital to have good insurance cover. When you cover a job through Paydesk you are always insured, free of charge, with £100K of Accidental Death or Disablement cover as standard.