Political parties in colour factor in South Africa
Port Elizabeth, South Africa • Current Affairs • April 25 @ 8:31pm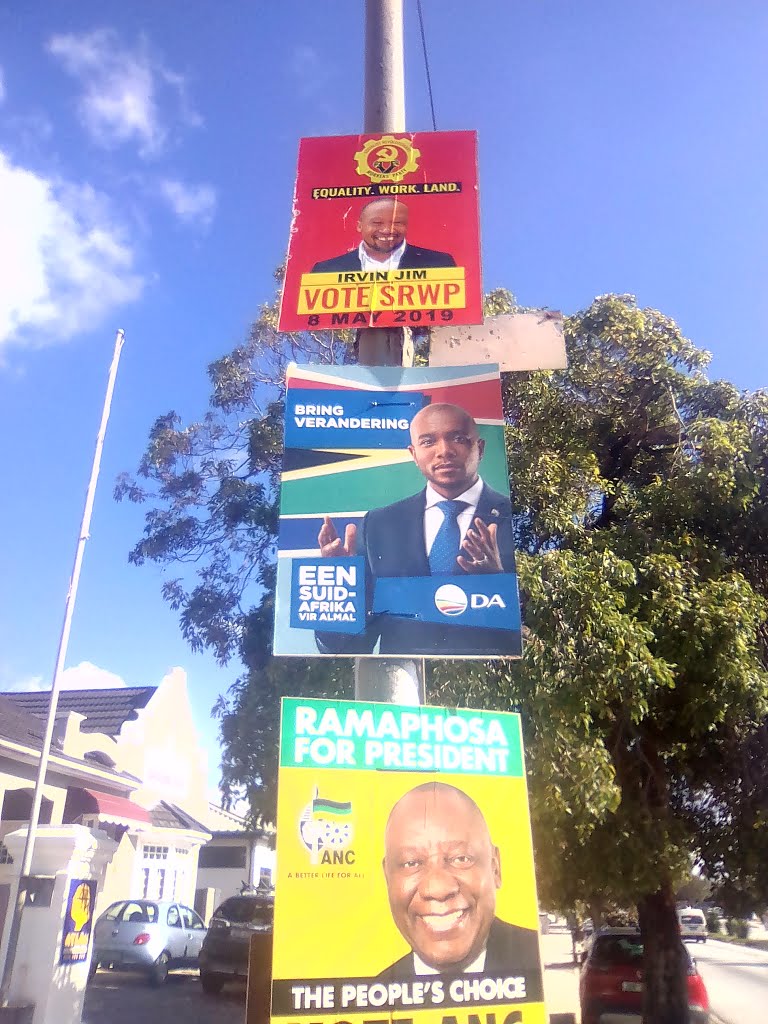 Caption: Election posters campaign on top is Irvin Jim representing the Socialist Revolutionary Workers Party (SRWP), Mmusi Maimane of the Democratic Alliance (DA) and Cyril Ramaphosa of the African National Congress (ANC). Photo by Godfrey Sigwela

By GODFREY SIGWELA

THE late freedom fighter Steve Biko once introduced the black power being driven by the spirit of the 'Black Consciousness' in South Africa. It was his way of fighting against the apartheid regime which oppressed the black people.

Unfortunately, Biko's mysterious death in police cells made him to leave us before revealing whether there is a colour factor in democracy or not.

That lead us to the coming sixth national general elections in South Africa. There is no doubt the outcome of these elections would bring a new colour in the democracy of South Africa.

About 48 political parties have registered to contest election on 8th May.

For the first time, the working class in the form of the Socialist Revolutionary Workers Party (SRWP) would be contesting the elections. That has pose a threat to other political parties, citing the number of the diverse workers who may vote for the SRWP.

The SRWP election campaign is being led by Irvin Jim, the trade unionist whose roots are based at the National Union of Metalworkers of South Africa (Numsa).That on its own has added a new competitive colour in the democratic society of South Africa.

Also on the road to the election day, leader of the Freedom Front Plus (FFP), Pieter Groenewald and the leader of the Black First Land First (BLF) Andile Mngxitama, has brought their own colour issues. Grounewald, wanted the BLF to be deregistered from the political parties voter's roll. Because, Mngxitama, prohibits any membership from the white people who may want to join the BLF. But Mngxitama remained not  thwarted as he emphasised his position about the black people versus white people as regard to the BLF membership.

The president of the Economic Freedom Fighters (EFF) Julius Malema, has added his own glamour. In an about turn move, he invited the white people to stay and share the land with the black people. He emphasised that no white person would be chased away.

This colour issue in democracy has also brought controversy in Democratic Alliance (DA) circles. Citing the history of the DA, it never had a black president before. Except currently being led by the black person in the form of Mmusi Maimane.