Zagros Under Fire: From a birthplace of wine to a land of smoke and flames
Tehran, Tehran Province, Iran • Natural Disasters • December 16 @ 10:54am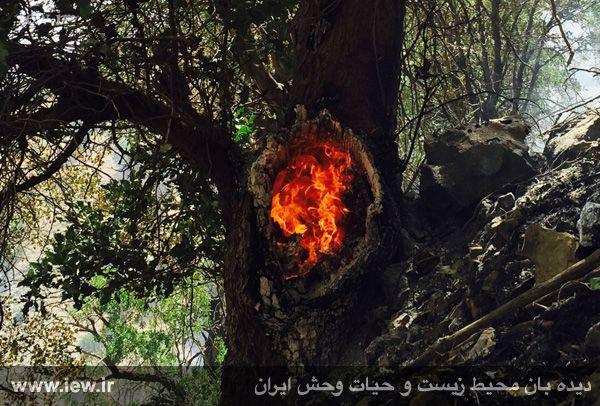 Two hundred seventy thousand oak trees burned in western Iran in the last few months, and one volunteer died in an attempt to stop the fire.

"The night in oak forest was bright with flames of wildfires. Some seven-century years old trees turned to ashes within a few hours! It hurts knowing that they survived all this long and burnt in such a short time!" Amirali cried over the phone, explaining the recent disaster in the Zagros mountain range. A fire roamed continuously for almost a week, while state bureaucracy failed to have an efficient reaction.
Zagros mountain range with a total length of 1,600 km is a home for several unique species of plants and animals like Persian oak, brown bear, wild goat, leopard, and golden eagle. It is also a part of the "cradle of civilization," a place known by historians as one of the birthplaces of agriculture and probably even wine.

However, these days, it is mostly known as a land of flames and smokes as every now and then, newly taken pictures of burned trees or animals and scorched birds' nests got viral on Iranian social media. It is estimated that 90% of fires in Zagros are happening by direct human interfere. While it may occur when occasionally shepherds or tourists mistakenly put part of the forest under fire, but most of the time, the fire gets started on purpose!
These occasional fires are happening throughout the year, but summer is worst for Zagros as the heat collaborates with flames. "Every summer, it is harder than the previous one, so is this year," sighed Amirali hopelessly. The fact is that plain fields and meadows get full of small bushes and wildflowers in the rainy season. Then thanks to the vast deforestation, when sunlight and dry climate meet each other, the dried bushes become a potential fuel.
Many nature activists and experts such as Mohammad Darvish, an Iranian environmental activist, journalist, and researcher, warned that with the two pluvial years we had, it is probable to have massive bushfire in the Zagros mountain range. So, the least expected from government and related organizations was to get ready for these unfortunate but probable incidents. However, no one was ready nor equipped even if there were all the protocols and warnings to make affiliated organizations prepared.
As a local environmental activist, Amirali felt responsible when he heard about the new blaze expanding. He reckoned, "I'm not a registered fireman nor have no related position to get an assignment for paid or volunteer task on fire disaster situation, but from the looks of it whether we have to do something or watch the woods vanish before our own eyes.". trying to hide his anger from his voice, after a little pause, he added: "I know being in the middle of flames for a couple of hours with a shovel or spade isn't the wisest thing to do, but in some point, I realized that it was the only option!".