Dying indigenous language revived by the blind men
Port Elizabeth, South Africa • Social • April 10 @ 9:20am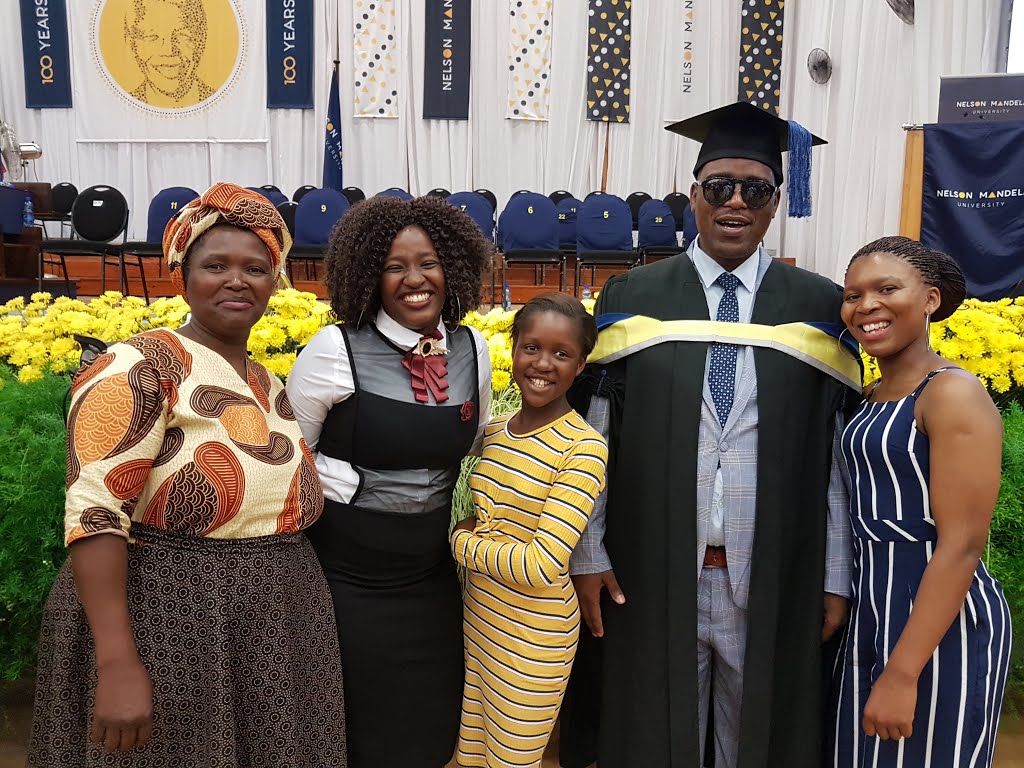 Caption: In jovial mood family members celebrating the achievement of blind graduate Avukile Jeke second from right. Flanked from left by his mother Zandile Jeke, sisters Aphiwe Jeke, Zenani Jeke and Aphelele Jeke. Photo supplied by NMUniversity

By GODFREY SIGWELA

GUIDED by the soul spirit two blind men inspires the community. They announced and promoted the preservation of gradually dying indigenous isiXhosa language.

This language has its aborigines at the Eastern Cape Province in South Africa. It is a province and a home to many political icons like Steve Biko and Madiba.

The two blind men became a talk of the town since the start of the Nelson Mandela University graduation ceremony held in Port Elizabeth recently.

They studied at the university and both acquired a BA Honours Degree in isiXhosa language. Apart from them being blind, that was a great achievement based on the deep complications of understanding this language.

One of these blind men, Avukile Jeke said: "The journey was so difficult in my undergraduate university experience. At some stage I decided
to quit and look for an alternative path to follow.

"I went to look for a job and got it. But things turned into difficulty. Because I had not enough money to pay for the transport to take me to work and returned back home. Being led by the desire to teach isiXhosa, I decided to dumped the job and I returned to university. My dream is to preserve the language. It concerns me that our mother tongue is dying."

Nelson Mandela University spokeswoman Zandile Mbabela confirmed the amazing academic journey of the two blind men.

She said: "Avukile Jeke came from Mount Frere near Mthatha and he was born partially blind and gradually lost his sight completely. He was part of the group of students initially not admitted to the university due to a lack of
adequate faculties to accommodate completely blind students.

"But the University's Universal Accessibility and Disability Services (UADS) unit has improved its facilities togetjer with organisations working with the blind people.

"Since beginning his studies at the university in 2014, Jeke, excelled into everything he was involved at the campus. He was among the Bachelor of Arts Honours in IsiXhosa graduates. That including another blind student Ntsikelelo Williams who obtained the degree cum laude alongside six others."

Williams, too was born in Lady Frere near Mthatha and was not born a blind person.

Mbabela stated that Williams, joined the institution last year with
three qualifications under his belt and the honours in IsiXhosa was his fourth. She also indicated that
Williams, was born with full sight, grew up in the rural areas of Lady Frere. He lost his sight due to a medical condition.

Williams said: "I was born with full sight and the ability to do anything. But a health problem affected my vision and my eyes were damaged and left me being blind.

"But the incident, did not stop me from chasing my dreams, like every child. I will always be grateful for the support from my family and those who continue to make me to achieve my academic excellency and promoting isiXhosa."

Head of UADS, Nosiphiwo Delubom, said: "We are proud of these students as well as the lecturers for their persistence and unending support to the students."