Liège, Belgium • Cultural • May 12 @ 12:44pm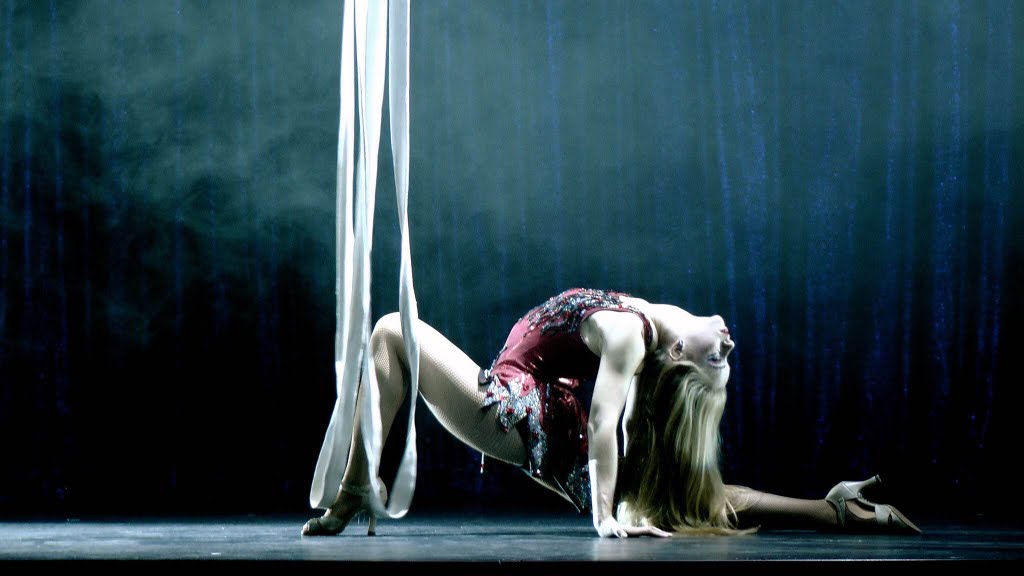 Viloria is a young talented American artist daughter of Venezuelan father and American mother, at 25 years of age, has seven surprising the world with its extraordinary body flexibility.


He has worked in important circuses of international renown, such as Cirque du Soleil.
The secret of her success is to give the best of herself.

By: Aymara Defêche
@AymaraNews


How can you describe yourself? How is Haley?
I am would describe myself as hard working and determined circus artist. I believe I have a pleasant a calm demeanor, although on stage i can become a dragon, or wild card ( or at least I have been told this.)

From where was born your passion for gymnastics?
I'm guessing that you've been preparing for this lifestyle for a long time, Are you sensing a gathering of intensity and expectations?
I never did gymnastics of any sort ad a child. Barely any sports. I really like fine art actually. I would draw in my room all day. But when I decided I wanted to be in the circus, I went to the Circus School in San Francisco, and a year later I began working professionally. Now, at age 25, I have been working for 6-7 years in circus tents, cruise ships, casinos, and theater shows.

What exercises do you performed for you to have so much elasticity?
I feel that from my coaches, my family, and my casts (in every production), expected great results from me. So every contract I was offered, I tried my best to strive for excellence and make myself better than the last contract i did. Better and better everytime. Before trainings in the mornings, or performances, I will listen to motivational speeches or poetry to prepare my mental game for the day. The mind is more powerful than the body.

How is your experience in Cirque Du Soleil?
Working for Cirque, has been a whirlwind of experiences. I have been incredibly blessed to be selected for such prestigious roles in the production of Amaluna, however, these positions did not come easy. I worked tirelessly (physically and mentally), to prove myself and earn my position.

What is your character in Amaluna?
I was originally casted to portray the Singing Moon Goddess (Aerial Hoo), but to my luck, in the refresh of the show a brand new character was created specifically for my personal straps number which I created in school.

Can you tell our readers which can be seen in your presentation?
My new character is called the Storm Goddess. She is a dark Goddess (but not evil!), who gifts Miranda with a storm that brings her Romeo to the island of Amaluna.

What is your favorite part?
My favorite part of the show is actually the act before me, a diablo solo act by the Peacock Goddess. Her energy every night is so fun, and it pumps me up to get ready for my act.

How is a day in the circus?
A day in the circus for me, begins with training handstands or contortion. Then I will do required trainings with the rest of the cast on stages if i am called for them. If not, i will continue my solo training on one of my aerial apparatuses. Afterwards, I'll enjoy lunch with my friends before beginning my hour and half so long make-up session. The make-up includes 3 layers of theater make-up, complete with rhinestones, eye lashes, contacts, then the wig and crown pinning.

It runs Latin blood in your veins thanks your father,
Would you like to know Venezuela?
My father was Venezuelan. I still remember him as clear as day. Even though nearly 18 years ago, his life was cut way to short. I think of him everyday, i see him in my dreams, i have photos of him and my mother in my dressing room at cirque. Not a day goes by that he isn't somewhere in my mind. I cannot say i am a religious person, but I can feel him all around me. Guiding me and advising me. Even onstage, i'm sure he is flying right next to me. When I have lost confidence, or are uncertain, I think about how he would handle the situation, and i continue on believing he would approve. I am proud of what I have accomplished in my young adult life so far. I bet he would be too. I just wish he was here to share my golden moments with me. I miss him terribly and my mother and sister do as well.

What does it mean success to you?
We still stay in touch with our family back in Merida and Caracas. For a time things were fine, but now with the uncertain future Venezuela, it is difficult to watch, knowing there is little to nothing we can do. I miss my sister Sabrina and her beautiful son. My aunts Elena and Angelina and my fathers mother as well. I hope with all my heart they stay safe and healthy in this time of unrest. Venezuela shall overcome. There is a mantra I like:
"Hard times have not come to stay, they have come to pass.." - Unknown.

Which are your dreams?
I would like my family to know they have a very special place in my heart. It has been years since we have held each other and embraced, but a time will come again that we will. Our families will reunite, and a the Viloria name shall continue on. We love you all so much! Please stay safe and well. Much love from myself, my sister and my mother.