Papua, Indonesia • Social • May 19 @ 2:47am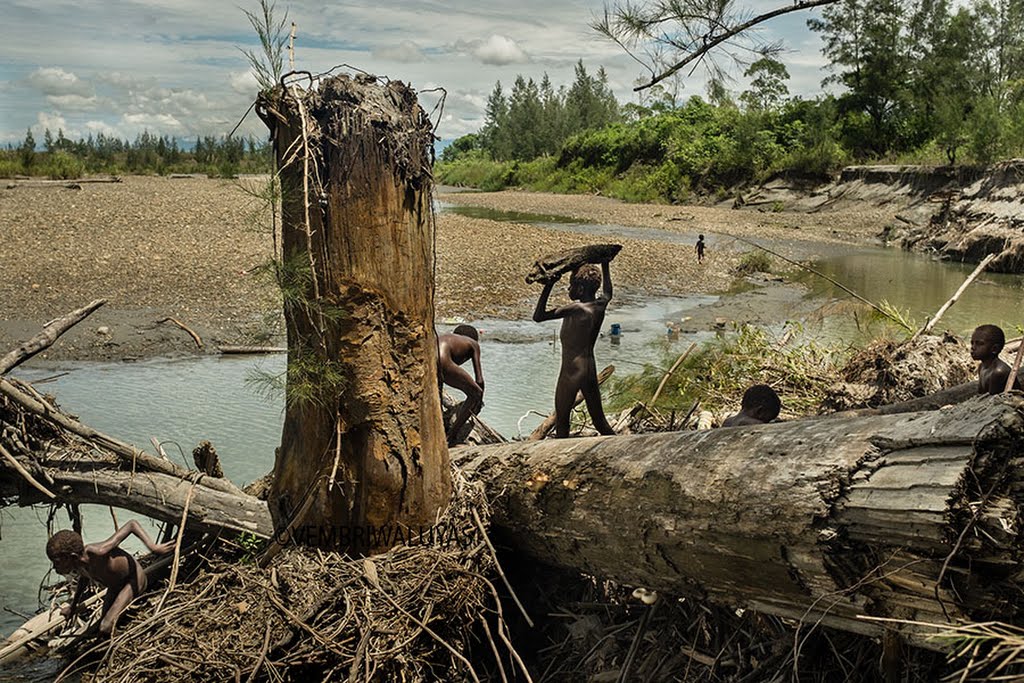 In 1967, the opening of the PT Freeport Indonesia (PTFI) goldmine in Timika gave the local population hopes of employment. Today, 25% of its employees are from the local community but many have not been able to secure a job as the company requires workers to have completed high school. Instead, many locals have become informal miners, working in PTFI's tailing areas, dumps of material left over after the mining process, along the Ajkwa river.

The Ajkwa river was named by the Kamoro people, a group of around 13,000 Pacific islanders living along the south coast of Papua, in Indonesia. The Kamoro relied on the river for fish, transportation, and the riverbanks were lined by sago forests, a staple food for the people. Today, this river is known locally as Kali Kabur. People say that the name kabur, meaning 'blurry', refers to the flow of the water.

Most of the illegal miners, especially people from Papuan coastal areas like Kamoro, Asmat, and Merauke bring their families to stay in the areas of illegal mining. Most of their children are not enrolled in school. Some stated that they are reluctant to go to school. Some said that they do not need to go to school. Others stated that they are scared of school. They perceive that the teachers, who are mostly settlers, are easily angered. Although going to school in Papua is free, as it is borne by government special autonomy funds, it is not appealing for them.

Besides becoming illegal miners with their parents, teenagers also become porters at the bus station where PTFI employees who work in the highland areas transit. These teenagers are called 'anak aibon' (aibon children). Aibon is one of the brands of glue containing trichloroethylene – a chemical that can causes loss of balance, dizziness, euphoria and hallucinations. The fumes of this glue are deliberately smoked by these children, much like other narcotics. They call 'ngelem'. Clinically, 'ngelem' can cause cancer and serious damage to the brain. It is not hard at all to nd this glue solid at a cheap price in the shops around them, and it is easy for them to get money by becoming porters. The price of the glue is Rp. 30,000. These children only need to be a porter six times before they are able to buy the glue. Their parents also give them money after selling gold from illegal mining. Money is easy to get here. Sometimes, these children gather their money together to buy the glue, and then the glue is divided into small plastic bags and distributed to those who contributed money.

In the previous generation, changes to the forest made them lose their gaharu; in the next generation, in the land of no forest, children lose their hopes of future possibilities.