'Armed Forces Commander' mentioned in drug bust in South Africa
Port Elizabeth, South Africa • Breaking News • April 21 @ 5:25pm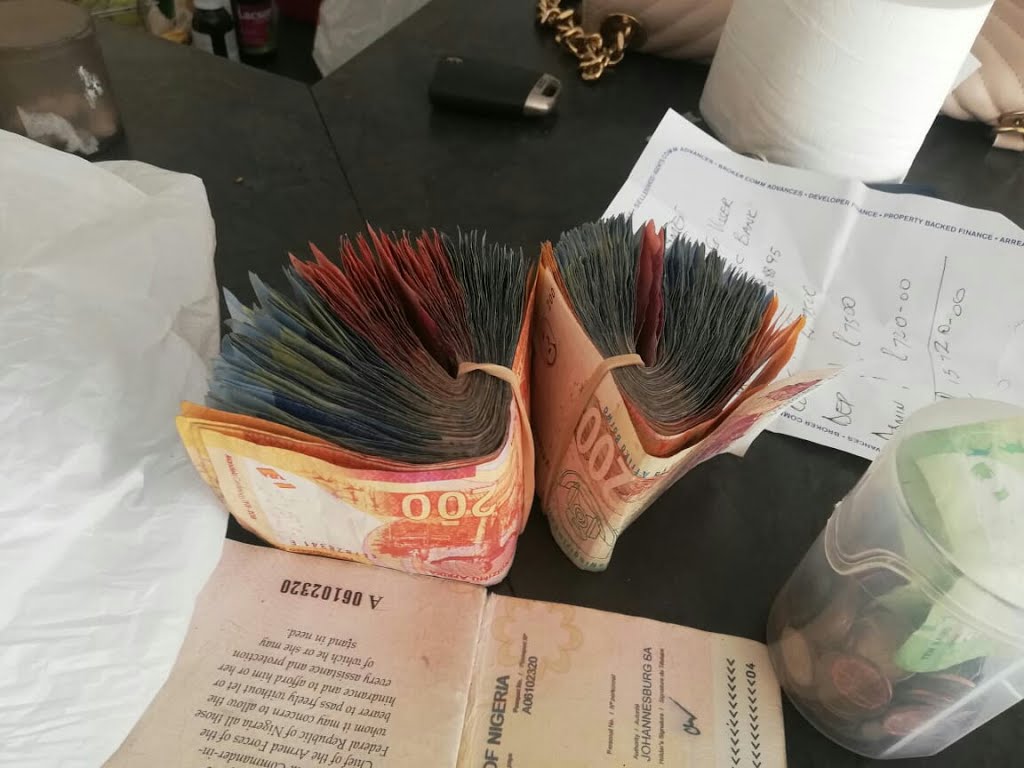 Caption: Drugs money and documents seized by the police in Port Elizabeth, South Africa. Photo supplied by the SAPS

By GODFREY SIGWELA

DOCUMENTS likely to hold an exclusive information allegedly linked to drugs operarion seized by the police in South Africa. Cops also confiscated packets of cocaine, suspected stolen cellphones and bulks of stashed money.

Police revealed a brief message from one of the documents they have confiscated.

According to the document, "the Commander-in-Chief of the Armed Forces of the Federal Republic of Nigeria, allegedly being used in a plea to grant someone a free pass without hindrance and being afforded assistance and protection."

All the shocking revelations were part of the Easter Weekend Mount Road Cluster cops operation in Port Elizabeth.

Captain Sandra Janse Van Rensburg stated that the eradication and clamping down on the illicit sale of drugs continue to be the focus in the Mount Road Cluster.

Captain Van Rensburg said: "PE K9 unit members acted on information received of a possible drug house in Cromwell Street in Kamma Park, Port Elizabeth.

"A search warrant was executed at the house and with the assistance of SAPS Walmer members, two people aged 36 and 37-years-old were arrested.

"It is alleged that as police tactically approached the house, they found two suspects, a man and female busy cutting and packing  drugs into small packets.

"After thoroughly searching the house more than twenty eight thousand rands cash, eleven cellphones, two scales, cutting equipment and cocaine was seized.

"The approximate value of the cocaine weighing 0. 970kg and small packets weighing at 0.155kg is three hundred thousand rands. Suspects are expected to appear in court soon."

Mount Road Cluster Commander, Major General Thembisile Patekile has applauded the actions of the SAPS members. Also thanked the community on reporting suspicious movements in their neighbourhoods.

"Communities must be alert to strange movements and activities going on in their areas. Drug lords and traffickers usually ply their trade from residential areas.

"We will continue to enforce our authority on these criminals. We will not tolerate their illegal activities in our policing precinct," said Major General Patekile.