New trick to prevent bloodbath at schools in South Africa
Port Elizabeth, South Africa • Current Affairs • June 12 @ 8:17am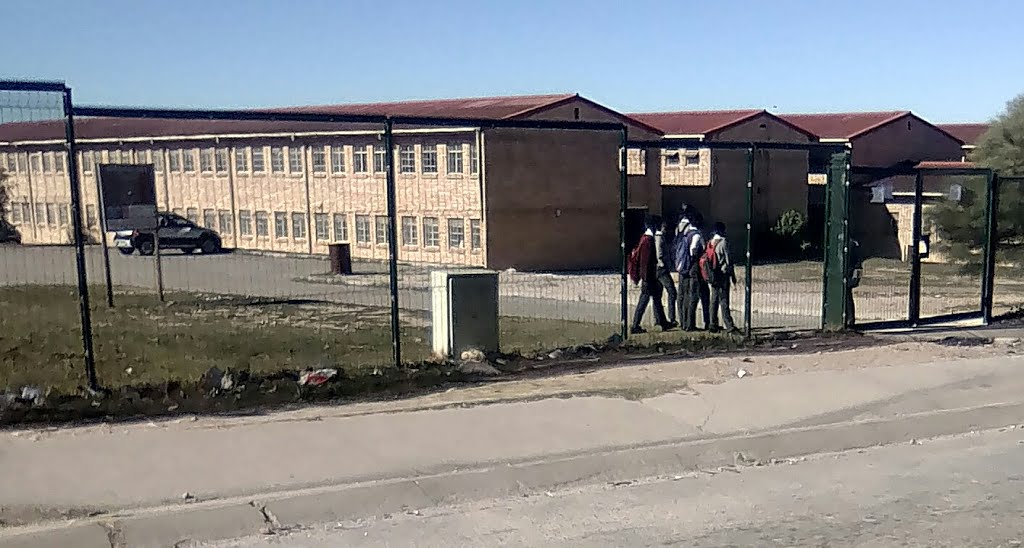 Caption: Is it enough to put long secured fences to prevent school violonce in South Africa? Photo by Godfrey Sigwela

By GODFREY SIGWELA

ONE wonders what happened to that school pupil used to dress up in shining black shoes, grey trousers, white shirt and a black blazer. This used to be a smart dressing code for almost all the boys in township schools in South Africa.

While the school girls were also known of their black shoes, black dress and a white shirt. In those days there were no school violence associated with the stabbing or shooting of a school teacher or killing another pupil.

In those days among the pupils concerns included the abolishment of the Bantu Education and the corporal punishment. But today right in the sixth democracy celebration, South African pupils are killing each other. Teachers too have been stabbed or shot and killed during the school hours.

What alse new need to be done to neutralise the situation?

Maybe the current curriculum is not enough to excite the pupils. One may judge from the pupils reluctance of wearing the school uniform or constant late arrival at school. It appear that they want to identify or associate themselves with another activity rather than their schools.

In some schools, cellphones are being prevented to be used during the school hours. Because the pupils seek entertainment from social networks rather than researching school work.

They follow the exaggerated lives of the celebrities and became absorbed in that life. As a result the quick desire of becoming successful and gaining money becomes their immediate desire.

As a result the pupils end up easily trapped to drugs and liquor. Their attitude of terrorising other pupils could be another way of wanting to gain unfair status.

What if the Basic Education Department in South Africa, may introduce extra commercial activities at schools. Activities like dance competition, stage plays competitions, radio and TV advertising competition and film festival at schools.

Obviously some of their celebrities could be invited as their mentors. At least those extra activities would bring them closer to their ambitions of becoming wealthy and be successful.

Already schools are protected with long secured fences and fitted with CCTV cameras. But it seems as if that is not enough to prevent school violence in South Africa.

In other schools there are in-house security guards or caretakers assisted by the police. The cops conduct random check of drugs, weapons and liquor might have been brought in school premises by the pupils.

But the situation has not change, instead almost every month there is bloodbath associated with school violence.

Recently a pupil a appeared in the South African court. It is alleged that he stabbed to death another pupil. While he allegedly left other two pupils seriously wounded and were admitted in hospital.