Côte d'Ivoire Adjamé '' Black market '': Minors and sex workers!
London, United Kingdom • Current Affairs • 11 Jul 2020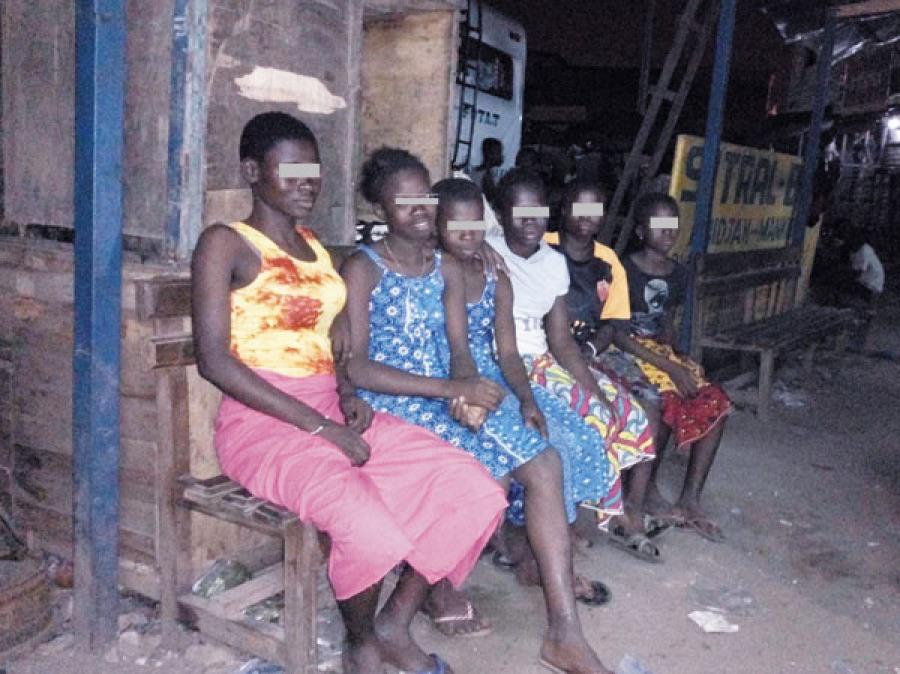 In Adjamé, Prostitution is taking on worrying proportions. Kids "sell" their bodies.

"I can handle 10 clients a night, 1000 FCFA with a condom 2000 CFA without a condom," says the softly spoken F.S. At age 12, this adolescent is already a well established professional sex worker. Her workplace is the bus terminal in the vicinity of Adjamé's "Black Market", where she and her peers, nicknamed "petits models" are queens of the night.

A few mini car drivers and their apprentices lingering in search of the last customers of the day can be heard from a distance. The emptiness of the night is quickly transformed into a sex bazaar by faces that thousands of travelers who pass through here every day will never notice. Here, sex is on sale all year. Seven days a week. As in all markets of this kind, sellers and buyers favor the darkness of the night.


 Some are seated on benches, others leaning against parked public transport vehicles "gbakas" or trading stalls, they spend the night waiting or bargaining with customers. These girls are dressed mostly in t-shirts, a piece of cloth knotted at the waist. No alluring or seductive outfits. They offer themselves as they are to a varied clientele: adults, adolescents, Ivorians or foreigners. How many are they? Twenty, fifty, a hundred ... Hard to tell. Ranging in age from 12 to 14 years old. Every day a new girl is thrown into the lion's den of the trials and tribulations of life.

Why? Abuse, the death of a parent(s), poverty.

According to Brigo, a 26 years man who spent a large part of his life in this environment where drugs, crimes, delinquency are part of daily life, "these little girls are on the street because of poverty, the death of loved ones or abuse ... When they arrive here, we, the "vieux pères", ensure their safety, he says. Then, we initiate them to the "ghetto" of prostitution".


These teenagers tell similar stories. The death of a parent or the wickedness of loved ones robs them of their innocence, dignity and ambition. D.C, 12, has never been to school. She has been living on the street since her mother died. This girl left her family home in Abobo to the Adjamé market. She started by selling onions at night with her friends, then ended up selling her body. "When I was 8, my parents sent me to one of their cousins. One day, accusing me of stealing 30,000 Fcfa, which I did not do, my aunt beat me violently. Blood was flowing from my nostrils. So I decided to run away from home and ended up at the Gouro market where I saw girls my age who had the same difficulties. I spent the night with them under tables at the market place ", says D.S, now 15 years old with a total of 3 years of life on the street.
During the day she sells vegetables, but at night she indulges in prostitution to support herself. A double life her family is far from imagining". I have no news from my parents. I did not go to my aunt's house where they left me". Then, she is urged to shorten the chat to catch up with a departing customer.

Varied clientele, terrible hygiene


As in all markets, prices are negotiable. With or without a condom and depending on the time spent with the client. "I'm 27 years old and I'm an apprentice gbaka. I know this place well. When I want to have fun, I choose a girl. I approach her with greetings and express the need to make love to her. Automatically, she gives me the price. We often manage to have sex on sheets of cardboard, or inside the gbaka", says the young man who refuses to give us his name.

"We spend the night in hotels with some older guests. With them, the fare goes from 5000 to 10.000 FCFA. Our "vieux pères" bring those types of customers. We sometimes pay them half of the amount we make", says D.S. Most of the time, we have sex in filthy conditions. "When we are done, we wait for the next day to clean ourselves in public toilets not far from the Black", says one of them. Basic hygiene is a luxury they cannot afford.

Pimps are rubbing their hands!

In this mercyless world, shady individuals benefit from the misery of these girls just out of childhood. They levy some kind of tax on the activities of their protégés. "When they come to the streets, these girls do not have money. We offer them something to do during the day. They sell ice water, lotus napkins or vegetables. At night we offer them a place to sleep. It is not free. Prices range from 500 to 1000 FCfa the night. For those who do not have the money, they have to work to pay", tries to justify Brigo. Thus, these "vieux pères" and "vielles mères" take advantage of these weak souls. They expose them to prostitution and often abuse them.


Pimping, it can be said, becomes a full-fledged activity generating financial resources in the underworld."When we come to the street and have no place to stay, these "vielles mères" who have more experience than us in the street will get the customers. Thanks to them I have been able to have customers until I gain my independence... After the john, I give them half of the money. If you do not pay them what they ask, you can be the victim of violence or robbery. One of us who refused to give back what she owed was stabbed. After the investigations, the "vielle mère" responsible was jailed ". Says one of these girls.


According to Maïmouna a thirteen-year-old prostitute, one of her friends was the victim of violence from a pimp named KY. "my friend was drugged by KY and raped by several people. Afterward, KY demanded that she prostitutes herself to pay back the money he spent in the hospital, which she could not refuse. She prostituted herself for a full year to pay back what she owed". Can we meet these "vielles mères"? "No, no, Tantie, we cannot. We are afraid to send you to our "vielles mères". They are violent and always under the influence of drugs".

An NGO tries to get the children out of the street


NGO Cavoequiva, engaged in the promotion of well-being and defense of human rights, in particular, those of children and women, is on the ground trying to offer a second chance and a new life to the girls who are victims of sexual exploitation. Created in 2003 and chaired by Irié Bi Tra Clément, this organization has already hosted 1,000 of those children. 500 have already been returned to their family unit. "In Abidjan, the insertion of young girls into their family unit is done in collaboration with Child Protection actors in conjunction with the Child Protection Directorate (DPE), the Criminal Police Sub-Directorate responsible for the fight against Child Trafficking and Juvenile Delinquency, the Regional Directorate Abidjan Lagune, social centers, the forum of NGOs and the association for children's suffering hardships.


Thanks to a partnership with the United Nations Fund for Population, the NGO has been offered a social center at the town hall in Adjamé. "The house for expression of girls" lodges girls victims of sexual exploitation. They attend literacy classes, knitting, baking ... "The NGO is a temporary support system for these girls who are victims of sexual exploitation, abuse, trafficking, economic exploitation and the worst forms of child labor in its community transit center which has been partly rehabilitated by the French Embassy. We are seeking other sources of funding to help these children victims of sexual exploitation. We are seeking grants to improve the conditions of these children", pleads the president.

Regrets from parents


Most parents we met at NGO Cavoequiva regret having entrusted the education of their children to other people. "I'll never make that mistake again. For lack of means, I entrusted my daughter to an uncle in Abidjan. Two years later, I heard that she was on the streets after being placed in a home to be a maid. Yet, they always made me believe that everything was fine at home. This morning, I was approached by  officials fromthe NGO who told me that my daughter was at their headquarters. She is skinny, dirty and 6 months pregnant". 75 years old Bassolé Bouréima bursts in tears. The old man swears never to make that mistake again. "I decided to get my daughter back. Pay for her studies, teach her to read and write", he promised.
Just Like him, Martine D is equally determined to get her daughter out the grips of this world where girls are exposed to many risks: prostitution, sexually transmitted diseases, drugs, banditry. "My daughter, aged 14, was welcomed into the NGO's transit center. It is with great difficulty I found her this morning. She does not recognize me anymore. She was 10 when I took her to an aunt's house to be a maid. As a result, she ended up on the street. I think this sad situation is due to our a lack of responsability. I'm going to give her a medical check-up", she says with many regrets.

Updated by Ivorycoast Tribune. 28/08/2019.

Source: an investigation by Émeline Péhé AMANGOUA.