East African Young Agripreneurs Empowered in Short Food Supply Systems, Sustainable Organic Vegetable Farming, and ICT
Mbale, Uganda • Business, Current Affairs, Technology, Science & Environment, Food & Drink, Health & Fitness, Training • April 10 @ 7:36am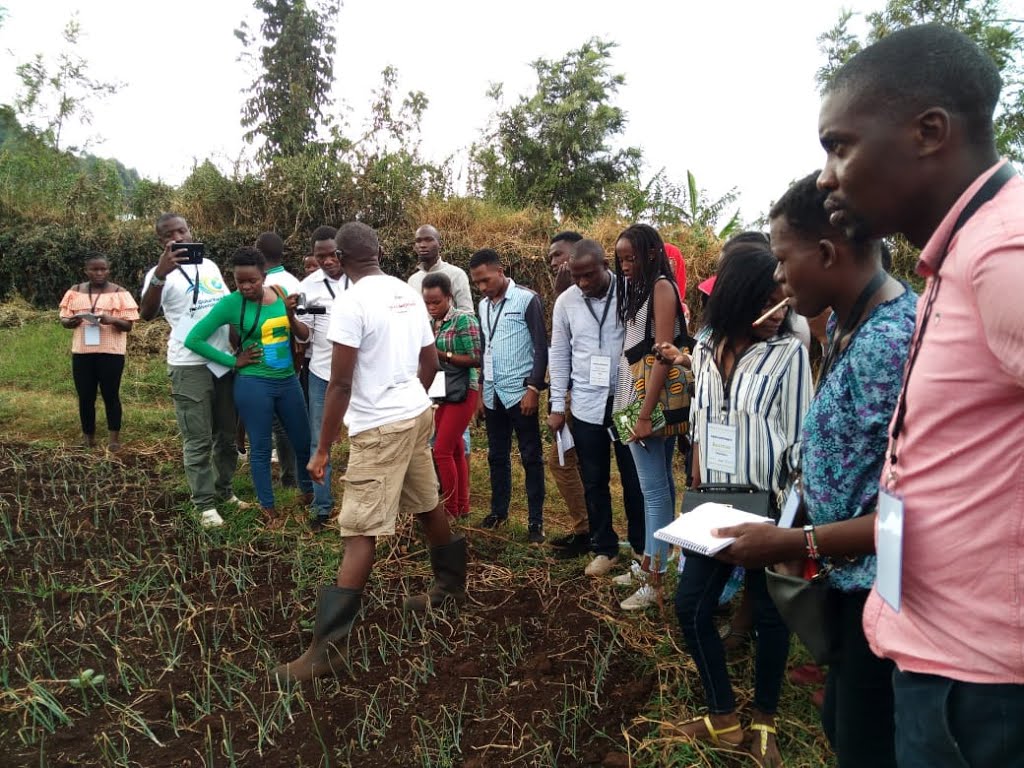 Early morning of Thursday, 28th March 2019, the 4th day of the East African Youth in Agriculture Workshop. Mbale town is peacefully quiet, save for some classic soul rhythms orchestrated by a couple of Ruppell's long-tailed starlings nesting on a tree near my room's balcony. Doors open and shut, feet dash, people greet, smooth peals of laughter and grins, toilets flash. It is smooth dawn. Those heading to the gym, others to a morning steam bath, some to the sauna, while to the majority of us, it is the home stretch of our early morning dreams, so we adjust our alarm clocks for 30 more minutes and cover ourselves comfortably. We sleep, well aware of the fact that won't be long before the alarms go wild again. True to this, my phone goes calling at exactly 6:30 AM. I have to get up, then venture into the marathon of showering, brushing, ironing, and dressing up begins. Upon completion of the daily routine, I realize I have 2 more minutes before 7 AM, time for breakfast. Sun rays through my window. Smile. I draw out my workshop programme and peruse through the schedule of the day. My favorite topics on the lineup- Short food supplies, Fresh veggies participatory guarantee systems, ICT technologies and their role in climate-smart agriculture. The icing to this cake? All presenters are beautiful young women committed to sustainable agricultural models. I'm ready for the day. Unraveling the slow pace of literature consumption after a heavy breakfast requires an extremely optimistic mind.

The workshop room's energy is optimum, everyone sited, and the presenters of the day looking all resourceful. The first is the United Nations Food and Agriculture Organization (FAO)'s Michela Carucci, giving an insightful talk on how short food supplies work and their benefits. From her 30 minutes presentation, it becomes clear to us that short food supply chains have a vital correlation with health and well-being, environment, and the socio-economic development of practitioners. Besides, we learn that short food supply systems enhance an integrated approach of agribusiness as opposed to the conventional ways of farming. Short food supply chains entail a clear framework of the stages of farming, from production to consumption. Even though the whole cycle is typical; production-distribution/marketing-consumption, it is called "short" because it usually involves individuals from a particular location. In addition, short suppliers and buyers get rid of "intermediary" people such as farm produce brokers, making it indeed short, practical, and ideal to the producers and the consumers. A typical example of short food supply would be a composition of a farmer producing tomatoes, a farm shop retailing the ready products, and the locals who come to buy from the farm shop or directly from the farmer.

According to Michela, short food supplies are ideal farming models that can be adopted by young people especially those in subsistence organic farming. Apart from the social cohesion and prudent economic returns, farmers using short supply chains have an ideal chance of mastering their clients' needs first hand and adjust accordingly. Michela notes that when considering a short food supply chain (SFSC), be sure to put 3 main factors into consideration- geographical range between you and your partners and consumers, the social relationships (have trusted partners), and local economic status (purchasing power of your community). With this amount of insights, coupled with a question-answer session, we are all inspired and ready to welcome the next speaker of the day.

Nothing beats the power of purely organic food in maintaining a lady's beauty. Our next speaker is a beautiful Ms. Julie Matovu Nakalanda, director of FreshVeggies PGS Uganda, who can easily pass for a 16-year old modeling contest despite her current youthful age. The passion Julie possesses for sustainable production of organic food cannot be equated. In essence, she is so obsessed with organic farming that she has mentored other women in her village to produce and complement her produce demand. Ms. Julie has not only realized convincing financial returns from this line of agriculture, but also participated in various local, national, regional, and international platforms to champion for its sustainability. Ms. Julie was inspired into organic production of vegetables after visiting the United States, and she has never looked back. With a humble starting capital about 25000 Uganda Shillings (Approx. 7 USD), Julie experimented on various crops and even reared some rabbits before settling on lettuce, leek, kales, onions, and garlic. With such a combination in your backyard, you can be sure of living a happy life, free from most diseases that we pick from food joints in downtown.

The close to 4-acre family land that Julie practices her organic farming on is sometimes dotted with climbing beans, pepper, strawberries, carrots, and even cabbages. As a farmer, she has mastered the art of crop rotation, which saves the plot off unwanted communicable pests and diseases and organically rejuvenates its nutrient capacity. Through her speech, we learn that Julie also offers consultancy and training services. In fact, she is headed to Zambia in April 2019 to train a group of women on organic farming. By the end of Julie's lecture, all the young people in the room, ladies and gentlemen, want to be like Julie when they grow up. They literally look up to her. However, in the questions segment, we realize that everything has its own fair share of challenges, including organic farming. Julie points out that competition from non-organic products in the market remains a task. Her partying shot? "Follow your passion, be strategic, and consistent". This closing point calls for an energizer, so we all break for our mid-morning tea break. As we bite into our sweet potatoes, we can't stop thinking of Julie's words.

After the tea break, we meet another incredible lady. She is all about information technology. Caroline Kahamutima is an engaging facilitator from Rikolto Veco, an organization that empowers rural farmers. Her mode of facilitation makes the technical terms more relatable as she takes us through the role of technologies in climate-smart agriculture. The audience discovers that there's an increasing need to include information communication technology (ICT) into agricultural practices in Africa. For instance, ICT has proven to be significant in the design, development, and actualization of farming projects. Initiatives such as extension services can effectively expand their reach with ideal technological platforms. Besides, environmental conservation advocacy can be efficiently carried out on television, radio, and telephone infrastructure. Faster payment processing and remittance by farmers is aided by mobile money. Ms. Caroline challenges young farmers to consider innovative ways in which technology can be of benefit to farmers, especially rural agripreneurs. The participants break into groups to discuss technological applications available in their home countries (Kenya, Uganda, Tanzania, Rwanda, and Congo), and the specific areas of applications.

In the afternoon, the 40 participants break into 8 groups to come up with sustainable business plans that will be implemented in their respective countries after the workshop. From problem statement to idea formulation on the solution, the groups are expected to present their solid action plans to the workshop organizers on the following day. We break out for a cultural evening, characterized by roasted beef, a celebration cake for the 5 intensive workshop days we have had, and a drink or two. However, before that happens, some of us dash to the swimming pool, to cool off our vaporizing brains following the lengthy and deeply insightful day. The workshops were jointly organized by YPARD, FAO, and Rikolto Veco organizations.